Regular Sunday School Classes Begin September 9th
Join us for Rally Day after Sunday School September 9th
Sunday School | Preschool - 5th Grade
9:15-10:15am Every Sunday
We use various classrooms in the lower level – just look for the many signs posted on the walls. Sunday School starts in the classroom.  After some classroom time with classmates and teachers, we move to the Trinity Center for large group activities.  Sunday school time will end in the classrooms where parents can pick up their children. 
Note:  Our preschool class does not travel to the large group time in the Trinity Center.  They will stay in the preschool classroom.  We would love for kids and parents to join us!
---
Register for Sunday School
Pre-registration is not required, but encouraged. We just want to get a head start getting to know who will be joining us and collecting the boring contact info so we can spend more time with your kids on Sundays!
---
Meet Trish
Director of Children's Ministries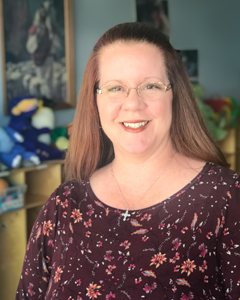 Trish came to serve Divine Shepherd as the Director of Children's Ministry in April of 2018. She is excited to share the love of Jesus with the children of Divine Shepherd and their families. Before coming to Divine Shepherd, she worked as the Administrative Assistant and taught preschool at St. Mark in Omaha. She has also worked for Concordia Academy upon moving to Omaha in 2013. Prior to living in Omaha, she and her family lived in Michigan where she taught in Lutheran schools for 18 years. Trish and her husband Kevin and their two boys, Christian and Caleb, enjoy hunting and fishing together. Their love of country music also unites them. In her free time, Trish enjoys flower gardens and reading.